Chicago-based architectural firm DMAC Architecture & Interiors modeled the American Airlines (AA) Admirals Club lounges at Ronald Reagan Washington National Airport (DCA) on the concept of "pavilions in the park", creating spaces for relaxation and recharging.
Branded elements visually define the two main areas of the show, which measure approximately 1350 m2 (14,500 square feet).
The living room pavilion is surrounded by tall wooden slats, creating an interior sanctuary centered around a fireplace.
The dining pavilion is surrounded by white tubes that create a light-filled canopy space with multiple seating configurations and expansive views.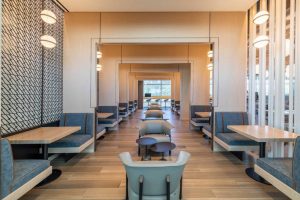 Intermediate spaces are designed for shorter break and regroup times.
Throughout, the club references local landscapes, landmarks and building connections with Washington, D.C. Some of the personalized features that help establish a sense of place include:
Two infinity landscapes of cherry blossoms, inspired by spring in the city, located near the bathrooms.
Sprigs of custom handcrafted pink flowers hanging in translated footage from The Star-Spangled Banner.
A rug pattern inspired by the landscape of an abstract map of Washington, DC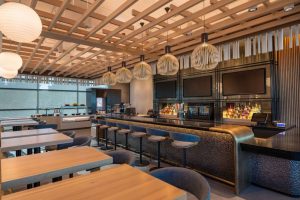 Sustainability is built into the new design, using conventional and unconventional practices. Renewable woods add warmth and softness, while finishing materials such as stone and metal are detailed to "protect the corners" for long-lasting durability. High-efficiency, energy-saving LED lighting and blinds adapt to light levels during the day with control systems set to the astronomical clock.
Dwayne MacEwen, Founder and Director of DMAC Architecture & Interiors says, "Just as parks are the rest of the cities, the Admirals Club is the rest of the airport. The Club is conceived as a collection of carefully designed spaces for guests to relax and rejuvenate, and where many details (large and small) are integrated with local narratives for a sense of place. Every place has a story and a story to tell, and we often tell those stories through design.
Source link