At CEDIA Expo 2022, Screen Innovations (SI) showcased a host of new problem-solving products in the motorized shades and screens category. Always striving to make the work of integrators simpler and more profitable, SI has drawn inspiration from its network of system integrators to develop technologies, products and systems that overcome common challenges in the field in an effective way. and efficient, while providing end users with beautiful, practical, and fun smart home environments.
Whether it's an integrator's wish for an easier means of programming, a range of thinner and smaller motorized shade and screen cassettes, or a hardware and most affordable installation software, Screen Innovations listened, pivoting quickly to design and engineer the ideal shade and screen solution.
"Despite a turbulent 2020 marked by a pandemic and ongoing supply chain issues, we never stop listening to our integrators and innovating products that make a real difference to their livelihoods," said Ryan Gustafson, CEO of Screen Innovations. "They are the reason we do what we do, and our top priority has always been to develop the kinds of shade and screen products they want. They tell us what we can do to improve. , and we pass their suggestions to the design and engineering drawing board."
A focal point of SI's CEDIA 2022 exhibit was Solo 3, a reimagined range of design-centric motorized projection screen cassettes that blend unobtrusively into surrounding environments. The clean, crisp lines of the Solo 3 Freestanding Cassette complement contemporary, minimalist home designs.
Unlike most other motorized projection screen cassettes, Solo 3 is manufactured as a visually flawless unit with no typical end cap demarcations. Units are powder coated in white, black or painted to match the surrounding surface. Alternatively, when mounted above the ceiling, the entire cassette disappears into the room structure.
The new Solo 3, available in cassette sizes 375, 575 and 675, replaces Screen Innovations' older 3 and 5 series lines of motorized projection screens. The Solo 3's design attributes help system integrators satisfy the most discerning tastes of customers who want an immersive and dynamic big-screen entertainment experience without compromising room aesthetics.
Moab by Screen Innovations "Mother of All Boards"
Screen Innovations introduces in its 575 and 675 Solo 3 models a new 485-based control board to facilitate faster programming of motor setpoints, rotation and reset, discovery and programming automation keypads and remote controls, and seamless integration with third-party control systems. This "mother of all boards", Moab has many inputs and outputs to support a wide range of 485-based automation and control setups and simplifies commissioning screen settings with other devices. control such as SI keypads.
Moab's translucent case, which can be purchased separately from the Solo 3 for programming assistance, includes 485 and dry contact ports, 12-volt triggers, and IR receivers. All programming can be done using Moab without a computer or software.
Outdoor motorized shade cassette inspired by Zen 2 design
The first decoration-focused outdoor shade solution, the Zen 2 from Screen Innovations boasts a customizable, architecturally-conscious design that can help transform decks, gazebos, patios and other outdoor spaces into living spaces. comfortable and stylish living, expanding the usable space of any home. Zen 2 gives architects and designers an option that also fits into today's home designs, with a custom option that can be painted and primed for color matching.
Accommodating popular outdoor shade fabrics up to 25 feet wide and 16 feet high, Zen 2 includes everything needed for a complete installation. Another benefit: Zen 2 installs in half the time of other outdoor shade systems, thanks to its unique snap-in tube and concealed bracket attachment.
Decorative features of the Nano 2 for motorized shading
The next generation Nano 2 from Screen Innovations embodies a suite of revolutionary new features in direct response to dealer requests, while maintaining the same modern aesthetic that has made the Nano line a favorite among system integrators, designers and users. final.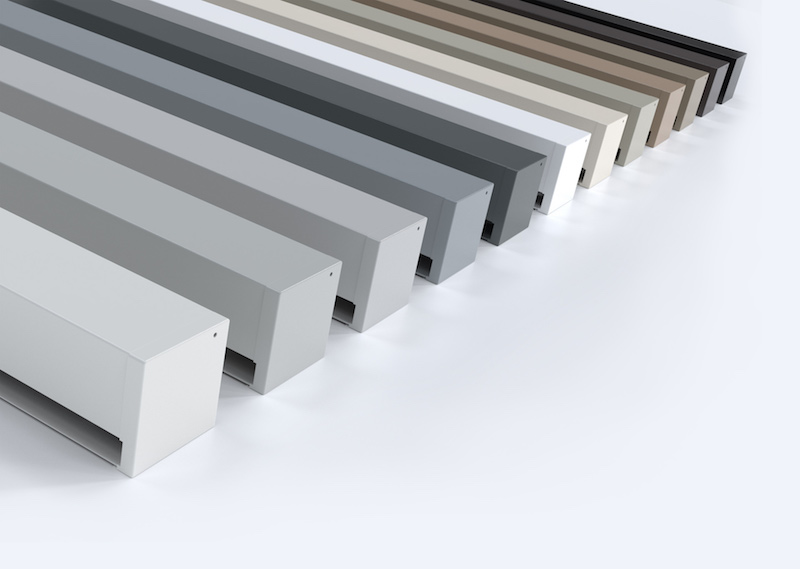 The Nano 2's removable front cover allows easy access to the motors, technology and shade cloth inside the cassette. This feature makes it easy to manage necessary leveling adjustments, maintenance and fabric changes without detaching the cassette from the window.
The motor, power and control cables of the Nano 2 can be removed from the mounted shade cassette for servicing. Other enhancements allow for smoother, quieter raising and lowering of the shade and faster programming and integration with other 485-controlled devices and systems.
Source link